There's nothing like a cute, little doodle to make me smile. I find myself doodling all the time, whether it's in my bullet journal or on any random paper.
The first time I started doodling was in elementary school. I remember drawing a lot of hearts and flowers. I still doodle, but now I doodle whatever comes to mind. It doesn't have to be perfect! In fact, that's not the point. The point is to create, whether it's a simple sketch or an elaborate drawing. It's a way for me to express myself.
The way I doodle is by using simple shapes and drawing them in a free-form manner. My favorite color palette is black and white. I use a variety of different pens, pencils, and markers, and sometimes even colored pencils if I want to create more of a cartoon feel. I think it's important to have fun with your doodles!
I have a collection of some doodle ideas that will make your journal pages look super cute. They will inspire you to create and share your own fun ideas. I know I'm not the only one who loves doodling, right? So let's get creative and play along! 
Cute Doodle Inspirations for Your Bujo
Cute Cow Doodles
A really easy to follow tutorial of adorable cow doodles. I really love the sleeping one, and I wish I could have a little sleep right now!
You can easily draw this cute cow doodle with just a few simple steps. This is one of the easiest tutorials you'll find on the web.
Cute Christmas Doodles
Christmas is one of my favorite holidays. So I thought it would be fun to share some Christmas doodles with you. This tutorial will show you how to draw a Santa Claus, Gingerbread, Reindeer and other decorative doodles.
Cute Dolphin Doodle
Drawing a dolphin is pretty easy. All you need to do is follow the steps in this tutorial.
Super Cute Ghost Doodles
If you're a fan of ghost characters, I have some easy ghost doodles to share with you. Drawing a ghost is a lot of fun. I'm sure you could draw lots of different types of ghosts.
Cute Shiba Doodles
The Shiba Inu is an adorable breed of dog. They have a very unique and friendly personality. This tutorial will teach you how to draw a Shiba Inu.
Cute Note Doodles
I really like how easy it is to draw post-it notes. It doesn't matter if you have to start from scratch or if you can use an existing image for reference.
Cute Baby Yoda Doodle
If you're a fan of Star Wars, you'll definitely appreciate this tutorial on how to draw Baby Yoda. You can use these steps to create your own adorable drawings of Baby Yoda.
Cute Doodle Tutorials
If you're into origami, then this step by step method will teach you how to draw a paper airplane, windmill and balloon.
Cute Sea Animals
It's so fun to create a drawing of a sea animal that looks like it came straight from the ocean. Plus, you can add tons of different colors to make these drawings pop.
Cute Bunnies Doodle
Bunnies are so fluffy and adorable! I want to hug them. It looks like they are having a great time just sitting around.
Cute Dragon Doodle
I love how dragons can have different colors in their scales. This cute little dragon doodle has a very unique appearance. You can add as many details as you want to this doodle.
Lovely Piggy Doodles
Pigs are just too adorable. I can't get enough of these cute little piggy doodles. You can't help but smile when you draw them.
Cute Rose Doodle
The rose is such an iconic flower. This tutorial has four different ways to draw a rose. It looks so simple but it's pretty.
Cute Wonder Woman Doodle
Wonder Woman is such a beautiful character in comics. You can add a lot of color and detail to your Wonder Woman doodle.
Cute Winnie The Pooh Doodle
This adorable step by step teaches you how to draw Winnie the Pooh and his friends. I love his silly personality and his cuddly demeanor.
Adorable Llama Doodle
This adorable llama is ready to go out and have some fun. If you've ever wanted to draw an llama, you will love this simple drawing technique.
Cute Panda Doodle
I've always been a fan of pandas. I think pandas are the cutest animals in the entire world.
Cute Cuddly Bare Bears
If you're a fan of We Bare Bears, then you'll really enjoy these cute cuddly bear doodles. Makes you want to give them lots of hugs!
Cute Gnome Doodle
The little gnome is a very cute character and would look great in a your journal. If you want to learn how to draw gnomes, this tutorial will help you out.
Cute Sea Creatures
This adorable sea otter doodle would look great in your bullet journal.
This is a simple step-by-step tutorial that will help you draw a great looking sea horse.
It's really easy to draw a cutie whale!
This cute octopus doodle is really easy to draw. You just have to start with a semi circle.
Cute Penguins
Penguins are cute. They're also easy to draw. So this is a great beginner penguin doodle tutorial.
Cute Animal Collection
This adorable animals collection has a lot of doodles for you to choose from. You can use these cute doodles for a variety of purposes, including a weekly or monthly spread.
Cute Zodiac Signs
Drawing Zodiac signs is another way to have fun with your bullet journal. I love how different the zodiacs look when drawn out in this manner.
Baby Elephant Doodle
This is such a cute baby elephant doodle. I really like how the coloring looks in this elephant.
Cute Cat Doodles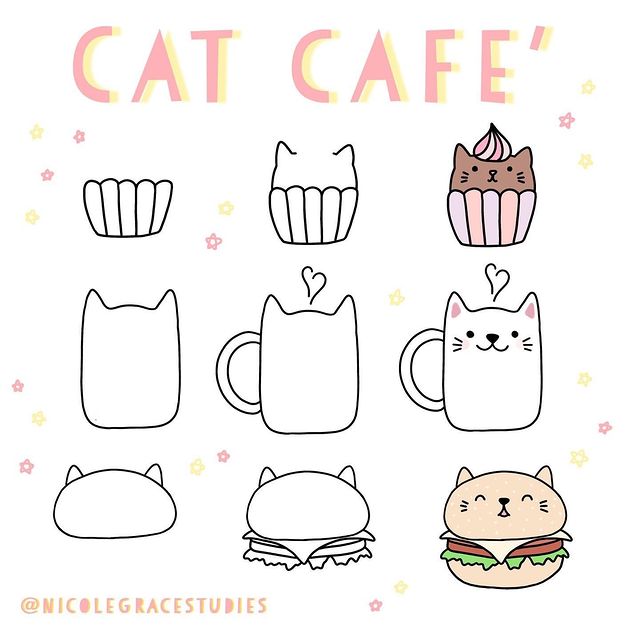 Cat Coffee, Cat Burger and Cat Cupcake. So cute and yummy!
Cute Mermaid Pusheen
If you're looking for a fun doodle to add to your summer or beach themed spreads, you can add this cute Mermaid Pusheen to your bullet journal.
Cute Fox Doodle
Foxes are considered sly and cunning, but it's always fun to add a little variety in your doodles. This cute fox is a great example of this.
Cute Unicorn Doodles
Unicorns are so majestic and colorful. If you want to get really creative, you can use a marker to color the unicorn.
Cute Corgi Doodle
I think this cute corgi doodle would be perfect for a dog lover.
Cute HedgeHog Doodle
You'll love this adorable little hedgehog doodle. You can add tons of details to this cute character.
Cute Reindeer Doodle
It's time to try your hand at drawing a reindeer. This tutorial will help you make a reindeer drawing that you can color up and use as a fun icon for your bujo winter holiday spreads.
Cute Bunny & Tiger Doodles
I've always loved drawing animals, especially when they are cute and small. So this bunny and tiger doodle is a perfect addition to my collection.
Cute Elephant Doodle
This cute smiling elephant doodle would make a great addition to your bullet journal or planner.