If the choice of the right journaling notebook or planner is still relatively easy, it will be difficult for the pens. There are just too many and, as I have discovered, with significant differences in quality.
What pens you use is a matter of taste. I usually use fineliners for the layouts (which I sometimes sketch out with a pencil) and gel pens for writing. Fineliners have the advantage that they do not smear.
However, gel pens are better in my hand when writing, and I think they glide nicely over the paper. I have not written with ballpoint pens at all since I found my favorite gel pens. Also, at work, I only use gel pens.
Choosing the Right Pen
If a pen does not push through or bleed too much, it is perfect!
Black fineliners are especially suitable because you can use them to write tiny letters precisely. Colored pens are great for highlighting certain things or differentiating information – but not a must.
I am happy to have pens in different thicknesses. The thick pens are suitable for headlines and words you want to emphasize. The thin ones are good for legible writing. They are also suitable for calligraphy.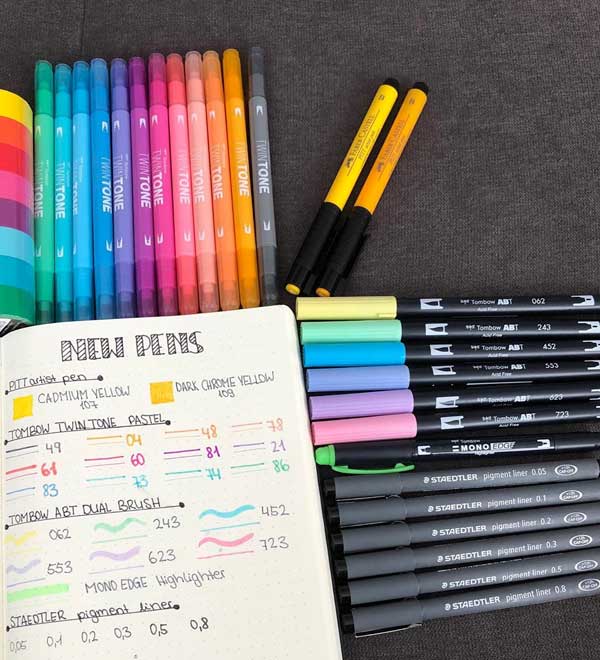 Pens – Fineliners
The most common writing tool for a bullet journal is the fineliner. Fineliners fit snugly in your hand, so you can write easily. With fineliners of different line weights, you can create soft lines to thick letters.
I recommend a fineliner with a thickness of 0.2 mm. It is well suited to write neatly and cleanly.
Again, there are many brands and types of fineliners. I would recommend you to buy a set right away, so that not only do you have a choice (and believe me this makes me creative), but you also save money by not buying individual fineliners.
When purchasing, make sure they have a rounded tip. Some cheap fineliners wear off quickly and splinters, which is not only annoying but also doesn't give off a nice typeface.
Pens – Brush Pens
Brush pens are very well suited for drawing different font styles. These have, as the name suggests, a brush-like tip. With these, you can create lines of varying thickness and amazing lettering effects. They are perfect for hand lettering.
Pens – Markers
If you search Pinterest and Instagram for Bullet Journal inspirations, you'll find infinitely beautiful colorful ideas. Colors are perfect for highlighting, adding accents and doodling. I like to mark important to-dos with eye-catching color. Icons and sketch notes are also more noticeable when color comes into play.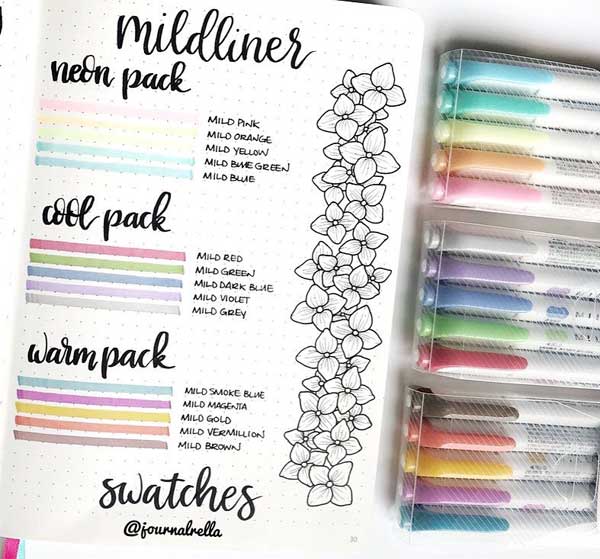 Since I use colors sparingly and prefer classic minimalism, I only use markers. Because of their felt tip, I can mark a whole line or draw something.
Some of my favorite pens for bullet journaling
Pens and markers for advanced journalers