May is a month where I get the most excited for Summer. It's when I start to look forward to working outside more, eating my favorite foods, and drinking my favorite drinks! We get more sunshine, and the days are getting warmer. 
The beginning of May is an exciting time of year! It's the beginning of the growing season! We are in full bloom in my area and the birds are starting to return to their nesting grounds. It's also a time when we can start to get excited about Spring and Summer! Bullet Journaling is a great way to keep track of your goals for the year and then also be creative and enjoy the process. I am starting to do this in the Spring so that I can have a more focused plan to keep me on track as I transition into Summer.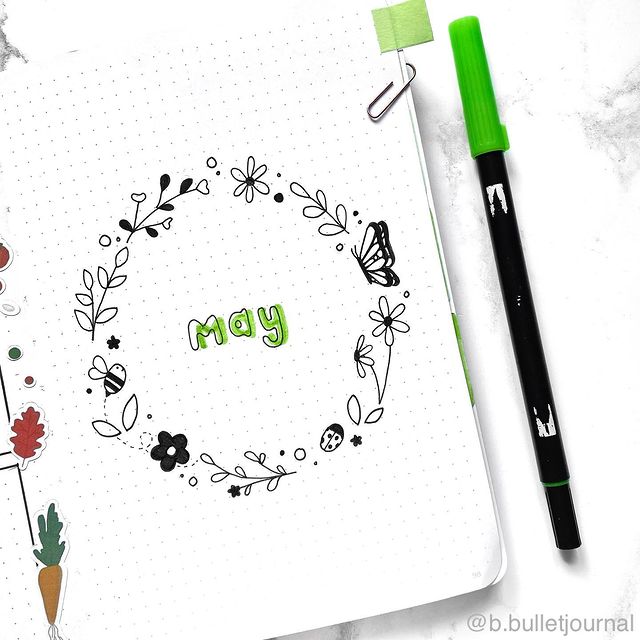 I hope you enjoy these May Bullet Journal theme ideas.
Dinosaurs
The world of dinosaurs is filled with wonder. From the small T.rex and Velociraptor to the massive Brachiosaurus, the Triassic Period was full of awe inspiring creatures. They have been extinct for millions of years and yet they still live on through movies, tv shows and video games.
If you want to be inspired by the beauty and mystery of these great beasts, you could go a really cool route by doing a Dinosaurs themed bujo. This is a fun theme because you can get creative with the details. You can include everything from a little T.rex to a full on triceratops. There is something about the large size of these prehistoric creatures, their powerful jaws and teeth and big eyes that make them fun to draw.
Zoo
What better place to spend your summer than at a zoo? The smells, sights and sounds of the animal world can be relaxing and inspiring. I love to draw animals and I find them very inspiring and inspirational. They are so alive and energetic. Zoo themed bujo's give you a chance to express yourself creatively through all of your art supplies. Whether you want to create a zebra with crayons and stickers, a lion with markers, a tiger with pen and ink or an orangutan with colored pencils; the possibilities are endless.
Ocean
The ocean is vast, infinite, and mysterious. It is the source of life on earth. The ocean can be calming, peaceful, exhilarating and terrifying. Its beauty is beyond words. There is no other element that can bring such a wide range of emotions to your life than the ocean. There is something so calming about sitting along the edge of a cliff and watching the waves roll in. You can see the spray of water and the foam of the waves breaking on the shore.
This is an easy theme to start with. All you need to do is pick a color palette from the ocean and go with that. There are many variations on the ocean theme. Some people like to have just an ink drawing of the ocean on the pages, others want to do a full-on watercolor painting.
Beach
For me, summer is one of the most relaxing times of the year. I love the sun shining, the warm breezes blowing and the endless possibilities of what to do in the summer. The beach represents freedom and relaxation. There's nothing better than sitting with my feet in the sand and staring out at the water.
The idea behind a beach bujo is the feeling of summer time and relaxation. If you are a fan of the sand, sea, ocean and sun, then you might enjoy a beach themed bujo. My beach themed pages are usually very minimalistic.
Fish
What better theme to add to your list of bujo themes than fish? They are beautiful and complex creatures with their own personalities. If you ever visited a lake or a sea near you then you know what I am talking about. They swim gracefully through the water, sometimes in formation and often just as individual.
There are so many different types of fish, its difficult to decide which one to use for a bujo theme. I love the way they are so colorful and vibrant. They are also the most playful of the ocean animals. When I do a fish themed bujo, I like to use lots of pastels, teal and aqua.
Ice Cream
Summer days are so warm and long, what better than to stay cool in an ice cream cone with the sun blazing down on your head? Ice cream is such a wonderful thing. It is a treat that so many of us enjoy as children and adults alike. I think that is why I love this theme so much. There is something about ice cream that brings joy to so many people. Some people like vanilla, others like chocolate, others like strawberry or mint or cookie dough or pistachio.
When I do a ice cream themed bujo, I like to use light colors such as white and off-white with a few pops of color. This makes the background feel so creamy and dreamlike. You can also use the ice cream theme to make a bujo about ice cream trucks.
Outer Space
There are so many amazing things going on in our solar system. Why not use a bujo to celebrate them? I think this is one of the best themes for those of you who want a bit more challenge in your bullet journaling. This theme allows you to explore and have fun with space. How far would you go to get to the stars? How far can you go to the moon? This is a theme that takes you on a journey to other places in our universe.
Shells
You can get tons of free shells at a beach. I love going out to the beach and finding all sorts of interesting shapes and sizes. We used them for a variety of things including jewelry, wall decorations and even bookmarks. One of my favorite things about collecting shells was the sense of accomplishment I felt as I went back to my hotel room after hours of digging, searching and finding new treasures.
As a kid I would get so excited as I collected the shells and brought them back home. As an adult I try to recreate that same feeling by using shells in my bujo. I do this in a lot of different ways. I either use the shell as a base for the design or I make sure that I have a small amount of shells in the foreground and another set in the background.
Summer
The warm weather, sunshine and lazy days. Everything is just a little bit better when the sun is shining. A summer bujo is about enjoying the sunshine. Maybe going on a beach trip, catching the last rays before heading back home or just hanging out at the pool with your family. The air is fresh and clean, the water is warm and inviting. I am always looking for ways to incorporate the outdoors into my bujo. You can add in all kinds of colors for a light and bright vibe.
Garden
If you are a nature lover, a gardener or even just someone who loves flowers, a garden themed bujo is for you. Garden is a place where you can unwind, slow down and enjoy life. When I do a garden themed bujo, I like to keep it light and airy.
Summer is the time to get your garden in order. Get the weeds out, dig up the flowers and put in new plants. I love how the fresh herbs, bright flowers and crisp air add a nice touch to my bujo pages.
Ducks
I love to watch ducks at the lake and have spent many happy hours doing just that. Watching them waddle along, playing in the water, eating and enjoying each other's company. A duck themed bujo can be just as beautiful as any other animal theme.