You like the "bullet journal" trend and you want to get started. But using paper and writing by hand does not interest you? Discover five mobile applications for a 100% dematerialized logbook.
For a few years now, the bullet journal has been making its way and is gradually gaining popularity. Used as a tool for personal development, it encourages its followers to take stock of their emotions of the day, to set goals, to note their day, etc. Unlike the notebook which involves writing, this modern form has readymade layouts: many include diagrams, colorings and other handy lists to note only make it more attractive to look at, but also more enjoyable to fill in.
However, although you might be curious, you may not have bought a notebook for different reasons: you are trying to reduce the use of paper for environmental reasons, you do not feel skilled enough for this creative work, or you dislike writing by hand.
Whatever the reason about you not having taken the bullet journal step, these Android applications may well change everything. Fun, easy to use and offering various export or customization features, we present them to help you choose the one that will accompany you in the coming months (and maybe in the coming years).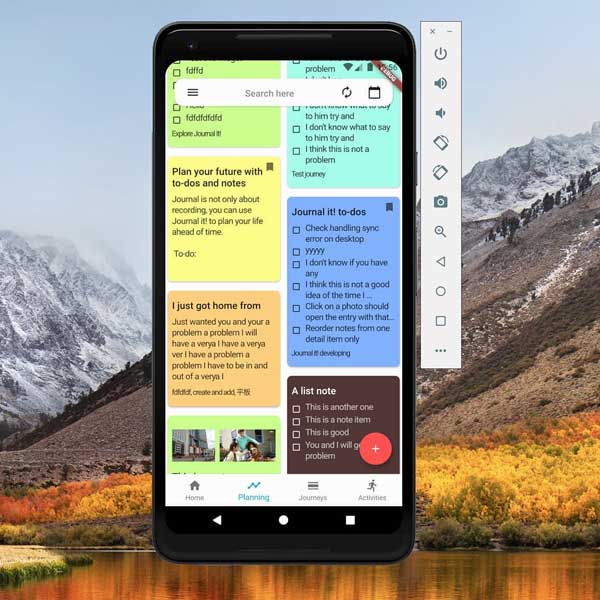 The basic concept of 'Journal It' is that they have designed this application so you can gather all your most precious memories in a single space.
With this application, you can also plan projects for the future, note your emotions and better understand them or establish new good habits, to keep your resolutions for example. In the interface, the developer gives a lot of emphasis to visuals.
In terms of functionality, it will organize your content by "stories" on one or more days, or by activity. You can customize your dashboard with templates, export your data to PDF, create to-do lists and even have a report of your feelings over a defined period.
Some people are afraid to create their own bullet journal because they do not want to be subjected to a new constraint. Daylio challenges this preconceived idea by offering each user a colorful and playful interface, which will easily convince the most skeptical.
Daily, you choose from the different icons to reflect on your moods of the last few hours, your activities, your feelings. You can also rename moods, get graphical representations of your previous entries and lock all your data with a code, all for free.
This application is compatible with Google Drive import and export, and it even opens up to sharing with friends, for those who want it. Emancipating itself from the bullet journal notebook, it is almost like a game.
This application will be perfect for you if you are the person who feels a lot every day, and can verbalize it easily. It considerably simplifies note-taking, since it integrates a simple and refined interface, with a blank page on which you reinvent yourself every day.
If you are uncomfortable writing on the smartphone keyboard, use the voice command to dictate to your journal. Add photos, even confidential ones: all you need to do is create a password to secure the whole thing.
The developer not only presents his program as a "bullet journal" application but also considers it as a professional organizer (diaries, memos, note-taking), travel diary or even budget management tool. The main advantage is therefore the versatility for Daybook Diary, with the freedom for everyone to choose their own uses.
The practice of the bullet journaling, focuses on well-being and serenity, will benefit you even more if you rely on the Gratitude application. What is the purpose of this program? To help you realize the beautiful things in life, to be more positive and feel strengthened every day.
By filling out this journal, you can look back on your victories. You also materialize your problems or anxieties, to step back and reduce worry.
Do you need a lot of motivation to keep your diary? Pixels offers you to generate, after a certain time, a selection of pixels to represent all the emotions you felt during the period.
Quickly and intuitively, you record your moods, the emotions you have experienced, all while using the color codes that speak most to you. The design, deliberately minimalist, suggests a dark interface for those who prefer to not tire their eyes.
From comprehensive to minimalistic and fun, there are journal applications for many users. Knowing all the alternatives available to you, you definitely have no reason to not try the bullet journal.