Let me first remind you that decorating your journal is not a requirement. This should not put further stress on you. The main thing is that your bullet journal allows you to organize yourself, save you time, and that you like it! Don't waste time copying the works of art you see everywhere on the Internet. Instead, make pages adapted to your life, to your daily life. On the other hand, if you want to make your creativity work, you are free to do so!
Decorative correction tape
Do you remember the correction tape? Yes, the tape that replaced the Tipp Ex correction fluid. Don't you see what I'm talking about?
Now that you visualize what I'm talking about, imagine that this same tape could decorate your pretty notebook?! Unthinkable, no?
It really exists. This cute tape style Washi allows you to decorate your journal with tiny stickers.
These decorative ribbons are available on Amazon. You will have several choices by clicking here.
Zentangle
You might have drawn doodles in your journal. Now I will explain you what a Zentangle is. If we want to interpret word for word, it is a "Zen scribble" or "Zen doodle. We make the drawings in small strokes using a pen or black felt pen so that it forms an abstract pattern.
We do not plan the strokes in advance and you can make strokes in any direction. Just keep drawing freely creating new patterns which then become foundations for new ones. It is an abstract art.
There are many examples on the Internet, with step-by-step lessons. All you have to do is follow them quietly and the result will be amazing.
Test it, you'll see that it is relaxing, relieves stress and puts an end to negative or depressive thoughts! You can add color to it, as you would for a mandala. It's much easier!
Perforator
This idea came to me when I was writing this article!
So a perforator?! If you've ever done scrapbooking, you know what I'm talking about. For others, here are some types of craft paper punchers:
There are some not only in different sizes but also with different shapes. I have some craft punches I had previously purchased for the creation of a photo album. As a result, I will use them for my pretty notebook, with colored paper scraps. I have small balloons, dragonflies, candies of all colors and I can stick them on my weekly spread as I wish.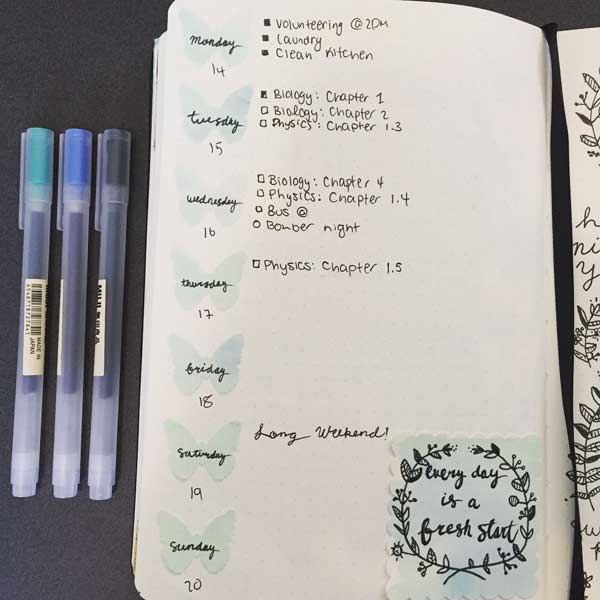 Drawing in pixels
After doodles and zentangles, you can try drawings in pixels. Whether you have a lined, checkered or dotted notebook, drawing becomes a child's play. For the blank page notebooks, I'll put my pen down!
The best way to understand is to give you some examples:
If you find that this is too large, you can divide the squares represented by the points in your journal into four parts.
For the lined notebooks, draw additional vertical lines!
I only have one thing to say now, have fun!