The year 2022 is here. What will it bring to us? Will we be better off? Will we have a better understanding of life and the world around us? I hope so. We all can make our lives better and easier with a bit of effort.
As the year comes to an end and we look back on the year, we are able to reflect on the lessons that we have learned and the challenges that we have overcome. In January, I think we all have a desire to start fresh, to put our feet up, to relax, to take a break. We are all looking forward to starting the New Year with new energy and new ideas! The Bullet Planner is a great tool to keep yourself organized and to ensure that you never miss a moment. This month, I want to inspire you to look at your Bullet Planner from a different perspective and think about how you can use it to really get your life in order in the New Year!
Inspiring Bujo Spread Ideas For January 2022
2022 Yearly Calendar Spread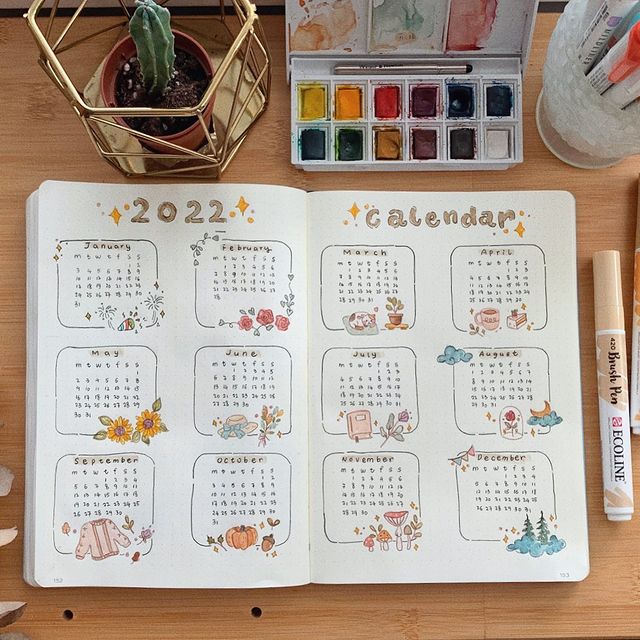 This yearly calendar page has cute little doodles for each month of the year 2022. It is a simple, but very pretty calendar spread for the New Year.
Cute Seal
This is one page weekly and the artwork really sets the mood. The theme is simple and looks very calm. This layout has such lovely color palette. I love the way the little cute seal is in the bottom corner of the page and how each week has an elegant header.
Relaxing Winter Vibes
This would be a great spread to start a new year off with! The font is really cool and the colors are relaxing. I love how you can create a really stunning spread just by using a simple color scheme. The beautiful and elegant color palette makes this so much more inviting to look at. If you're looking for a layout that is full of vibes of the winter season, then give this spread a try in your Bullet Journal.
Japan Vibes
This would be a great weekly layout idea if you are into the Japan or kawaii theme. I love the use of washis and the gorgeous colors used in the layout!
January Trackers
This is a really cool habit tracker idea. The dot method you used is a great way to get started. This would be a great start for your monthly habit, sleep and mood tracking. I love the monochrome aesthetic that this layout uses.
Dreamy
A unique and thoughtful layout! I really like how the monthly calendar fits perfectly with this theme. The color scheme is very pretty and I love the pink sky. The cover page looks like it is a magical adventure!
Weekly Layout with Tabs
I love the Dutch door style tabs for each week and the little bear in the spaceship. I'm going to have to add this one to my favorites. A really pretty spread, and you can't go wrong with a nice quote!
Crescent Moons
A really creative idea for the days of the week in this single page weekly spread. The moons are very pretty and they add a lot of interest to this weekly spread.
Monograms
A great weekly layout Bullet Journal idea! This is a very simple and effective weekly spread. The monograms are lovely and the overall design is very stylish. This is one of my favorite spreads that I have seen in January 2022! I love the monograms and the beautiful lettering!
Simple Nature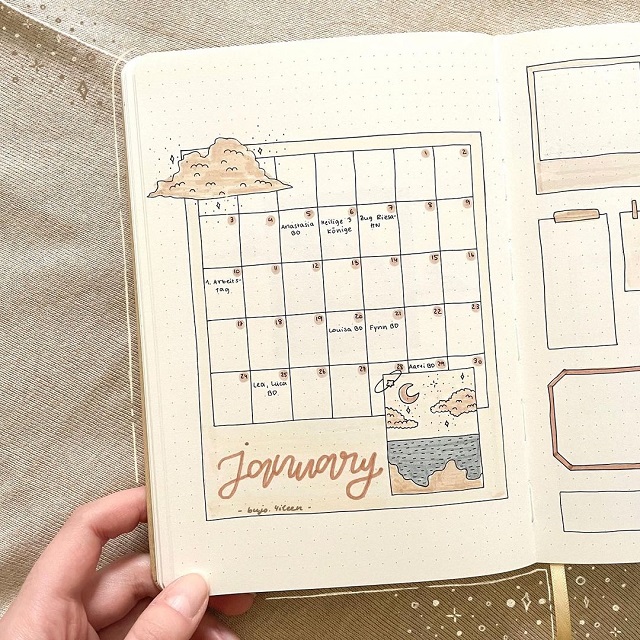 Here is an awesome January Calendar Bullet Journal idea! This has a very simple color scheme with a few clouds and a moon! I love this because it makes me feel so happy to look at! It's a nice break from all the rain and snow we have been getting lately.
Floating Clouds
This is a gorgeous and lovely January weekly spread idea! The subtle colors and cloud doodles make me feel so calm and relaxed. This will be a really great way to record your week. I love the idea of having a weekly page that can easily be updated as you move through the week.
Sun Rays
This is a very creative January 2022 bullet journal cover page idea! The cover page is gorgeous, and the sun rays are really awesome! I really like the artwork and lettering on this cover page. This cover page would be a great way to start the year off on a positive note!
Ski Landscape
Here is a lovely January Bullet Journal calendar spread. This one reminds me of the ski lift that I used to ride when I was a kid, which was fun. The colorful heading is great! This would be perfect for the first month of a new year.
Nature
This is a very cute spread for the first week of the new year! This is very aesthetically pleasing and lovely. The colors are very pretty and the whole layout is just so cozy. I think this would be a great spread for anyone who loves pretty color themes! The first week of the year has started and now is the time to start setting up your plans and goals for the new year!
Cute Bunny
Here is a cute bunny resting on the cloud looking out at the world! This circular mood tracker idea will work well in January of 2022! This idea covers my desire for gold accents, and also the Circular style of the tracker. This is a great example of the way that you can have some great artwork that helps inspire you to write down how you feel.
Coffee Vibes
This is a really cool layout for January, Week two of a Bullet Journal! I love the neat layout and all the coffee vibes! And the handwriting style is so cute! I'm glad I got to add this spread to my collection of layouts.
Butterflies
Here is a really fun bujo layout for the first week of 2022! I love the beautiful color palette and the 'organized chaos' title is very appropriate for this weekly spread. The cute header and the blue and purple butterflies make me smile.
Winter Hues
This is a really cute and creative idea for a January winter monthly layout. I love the bird on the left with its winter gear. It makes me feel so cozily warm inside! It is really lovely to see the large header with a beautiful font used in this spread.
Butterfly Cutouts
This January Bullet Journal Calendar idea is simply breathtaking! The theme is exquisite, the butterflies are adorable, and the envelope is a really cute idea! The little envelope really makes the whole spread feel elegant and vintage. Give it a try in your Bullet Journal!
Snowflakes
A really inspiring winter weekly spread! I love the beautiful handwriting and the Elvin winter imagery! The fonts and colors really make it look magical! The layout is really unique, and is perfect for capturing a spiritual vibe. This spread would be great for the winter months of December and January.
Colorful
A super cute weekly Bullet Journal layout idea. The pastel colors with weekly boxes and matching doodles are so pretty. I really love how this is a mix of cute doodles, coloring and journaling. This is a really fun layout to add to your January Bullet Journal.
Pin Now Read Later