For many of us, including me, creativity, or the gift for graphic design, is not innate. Despite this, there are ways by which we can create very nice bullet journals. With a few tips, a few inspiring blogs, and that's it.
For most of us, the mavens of the bullet journal inspires in us the real works of art using drawings, lettering, and even watercolors.
But well, sorry folks, even if your BuJo make us dream, they make us despair just as much, because we, poor mortals, well… We can't do it.
Our BuJos are empty, flat, without color or pretty design. That's enough to lose motivation and go back to the good old planner.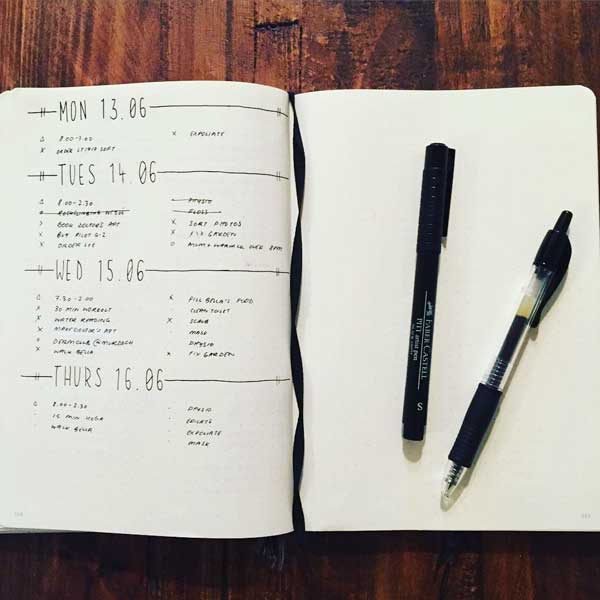 I've been through this phase too. I also wondered if it was interesting to continue. But even then I couldn't resist ordering my favorite notebook Leuchtturm 1917. Because the Bullet Journal offers me possibilities that the classic planner does not offer me, I have become too used to it.
And if you are like me, here are some tips to motivate yourself to create pretty Bullet Journals.
Printables
Blogs on Pinterest and the whole web are full of printables that you can print and paste directly into your notebook.
Ok, it may sound a little lazy, but when you run out of time, or when you're not good at it, it does the job. Most of these printables are free, so you might as well take advantage of them.
Among my favorites are:
The printable weekly from married to the hearth
The complete printables from The Petite Planner
Printables from Life Is Messy and Brilliant
The ready-made notebooks
If you really need to save time and idea of the BuJo doesn't stop you, there are notebooks ready to use.
The pretty drawings are already there. The layout is already ready. And there are even a few blank pages left if you feel inspired.
It's a good alternative to start when you don't feel too ready.
Among these ready-made or pre-printed notebooks, there are a few I think are great:
Graphic Bullet Journals from Lilla Design
Bullet Planner by Scribbles That Matter
I hope I have given you some ideas that will help you embark on your Bullet Journal adventure.