My basic Bullet Journal setup comprises a title page, weekly spreads, notes page, and a future log. From time to time, I add a Mood Tracker or other spreads. I used Monthly Logs in the past, but I deleted them now because they doubled for me with the Weekly Spreads.
What I had not used yet were dailies, although they play an essential role in the actual Bullet Journal method. This is because my weekly logs have such a central function. Another reason is probably that I, admittedly, also use a notes app on my mobile phone for noting down spontaneous ideas like shopping lists, to-dos' to remember, future purchases, etc. The app has a great to-do list function, and the phone is usually at hand than my journal. I know that by the time I reach my journal, the idea would have disappeared from my head.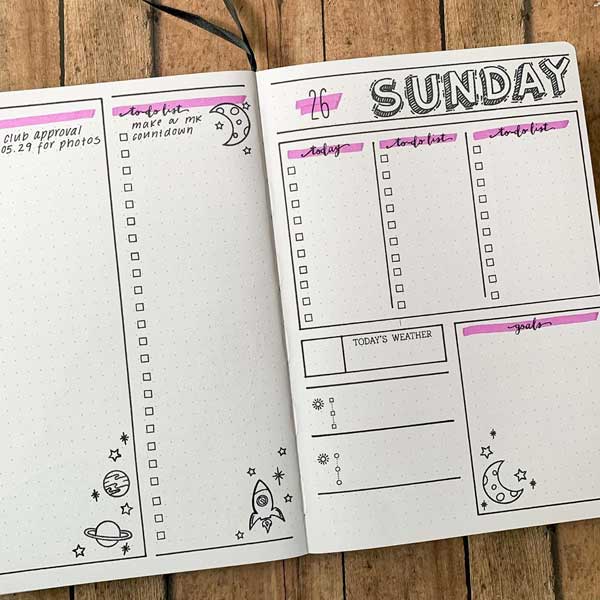 Note down your morning & evening tasks
It is essential to introduce an evening or morning routine. Otherwise, you quickly lose the overview and the fun. You then sort the individual items you have noted down over the day and transfer them daily to a Future Log or Weekly Spread or to a list of topics, a so-called Collection. A collection is a list, for example, for the upcoming vacation, in which you note down all the tasks you want to implement.
If you use daily logs, it may not be necessary to use weekly overviews. For the sake of clarity, Monthly Logs are also suitable instead, so you can see at a glance which dates, and to-dos are due on the individual days.
Just try out what works and what doesn't. Omit what is too much, and you don't use it. Moreover, add what you've never used before. Maybe it'll become a vital function in your journal.
Creating a daily log and migrating tasks
Here you can enter every task that the day has in store for you, note all appointments and assign priorities. Check at the end of the day whether you can tick off every item on the list, or whether specific tasks have changed or you need to postpone them to the next day.
You can mark tasks you need to move to the next day with a less-than sign. You can tick off or cross out completed tasks, and you can even note down your most beautiful experiences of the day in a few words, just like in a diary. You can always refer to the key or legend you had created at the beginning of your journal, to migrate tasks.
Most of the time, the Daily Log is just a third of a page, so we can place the days of the week on two pages. If we spread a week over a double page, we call this the Weekly Spread.
Although there are many beautiful templates and ideas for the Weekly Spread, it is advisable not to enter the weekdays in advance so you can stay flexible with space. Especially, if you are a Bullet Journal beginner, it is often difficult to estimate how much space you will need per day. People with many tasks, who like to write even small to-dos', might need a whole page per weekday, others might need a third and still others log Monday to Friday on a single or double page.