If you snoop around like me on the internet, you must have seen a colorful wheel called Level 10 Life. But what is it used for? What exactly is it about? I will help you avoid looking and try to explain what I understood about it.
Definition of Level 10 Life
So this wheel, called the Life Assessment Wheel, is a pie chart that is divided into 10 sections – one for each area of interest called the main focus of your life. Each section has a progress bar to be filled in from 1 to 10. You complete these sections based on your level of satisfaction with this area.
In fact, the principle is simple. You must assess your level of satisfaction in each of the areas below. This will give you a quick overview of your overall satisfaction level. You will therefore have a good basis to work on improving this satisfaction.
Health and sport,
Family and friends,
Couple, romance,
Finance,
Leisure activities,
Wisdom and harmony,
Self-sacrifice, generosity,
Career and work,
Physical environment,
Personal development.
But let's not go too fast, it's about taking care of yourself and it deserves a few minutes.
Self-assessment phase
As I just said, it is necessary to take some time for yourself. Relax, be calm and think about the following questions:
What gives you the most smiles in your life?
What do you want to start with as an improvement / change in the coming month?
What is stopping you from making these changes?
Why do you want to start changing your life now?
Be honest with yourself. The point is not to lie to yourself, to exaggerate, to reduce certain defects… On the contrary, you must be OBJECTIVE!
Once this first step is complete, you can look at the wheel of the Level 10 Life. It is up to you to determine where you stand on a scale from 1 to 10. It is an estimate, a very personal feeling.
Example: For career and work, you feel good about your work, you may lack a little motivation but you don't complain about your activity = 7 or 8 on the wheel of life. On the contrary, you feel you are losing motivation at work; you want to progress but are stuck in the same position for years = 2 or 3 or less. No one can do it for you. But this introspection is necessary if you really want to improve your self-esteem.
Once your level of satisfaction has been determined, you must color the wheel according to the sections. For the above example, I will color either up to level 7, or up to level 3… The best is to mark with a thicker line the level reached. So, if you have the feeling of progressing, you can then color the next levels, always keeping in mind the starting level.
After this self-assessment, it is now necessary to define objectives to try to reach level 10 in all areas.
And for a change, instead of the wheel, you can make a square!
Define the objectives to be achieved
First, think about what I can improve. Then think about how to progress to level 10 in each area.
Once again, ask yourself the right questions. I will list some of them here for each of the areas. But don't limit yourself to these examples:
Personal development:
Which book do I want to read?
How many books over a year?
A foreign language to study?
Do you want to start meditating? Yoga?
Health and sport:
How do you want to eat?
5 fruits and vegetables a day?
What do you want to avoid as a diet?
How often do you want to play sports?
The point is not to say that you want to get started, but how!
Family and friends:
How can you improve your relationship with your loved ones?
More calls?
Be regular in your meetings, more invitations at home?
Work:
What goal do you want to achieve professionally?
Have you ever thought about starting your own business?
Which company attracts you?
Are you interested in a position? How can this be achieved?
Finance:
How much do you want to set aside?
Do you have debts to repay?
A credit?
What is your project and how much do you need?
Physical environment:
Is your home/apartment suitable for you?
What do you want to change?
Where do you want to live?
What is essential from a material point of view?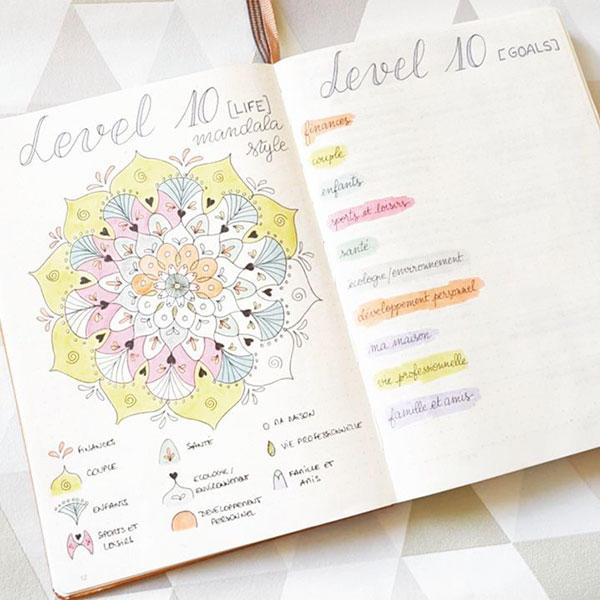 Couple:
Are you really happy?
What do you expect from your partner?
What could you do to improve your relationship?
How do you see life with two people?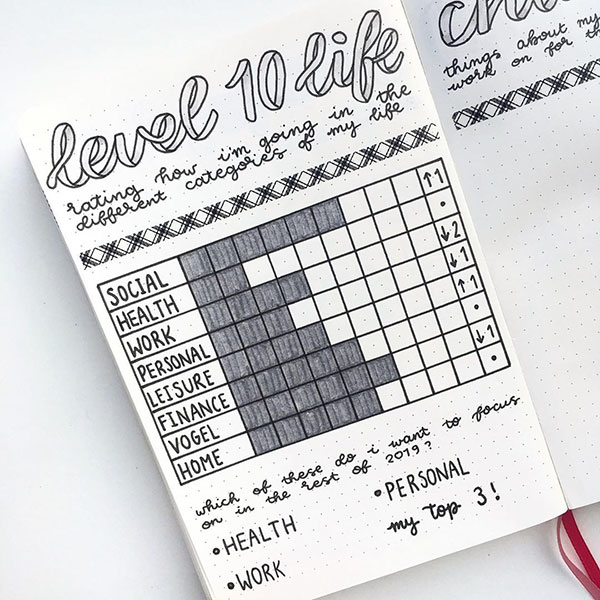 Leisure:
What do you like to do?
What activity?
What do you want to do/create, but have never dared?
Your passions?
Leisure? How much time do you spend on it?
Generosity:
How do you help others?
How important is it to you to help others? Your friends? Strangers?
What would you be willing to do, to give?
An association that attracts you?
Wisdom, harmony:
How to improve your well-being?
Looking for harmony?
Do you want to get closer to a religion?
Going to church more?
How do I achieve my objectives?
The questions you have just asked yourself have enabled you to identify objectives, ideas for improvement… Now, you must implement them. Integrate them into your daily life to reach level 10 in each of the areas. So you're going to have to change some of your habits slowly but surely!
According to Hal Elrod, author of the book Miracle Morning, there are 3 phases of about 10 days each during the change of habits:
Phase 1: It's unbearable.
Phase 2: It's uncomfortable.
Phase 3: You feel unbeatable in implementing the new habit.
It is therefore necessary to be a little forceful to progress.
However, it is useless to want to change everything all at once. That's impossible. Instead, ask yourself what you can change tomorrow! Start with habits that are fairly easy to change and that will quickly produce results. This will encourage you to persevere.
Follow-up
Once the objectives are set, the habits changed and identified… it is essential to follow up. If you are familiar with this blog or the concept of Bullet Journal, you already know which tool can help you track your objectives.
For others, as we have just seen, about 30 days are necessary to change a habit. Take advantage of a new month to create a monthly monitoring chart or spread. Work on about four or five habits you would like to change. Every evening, fill in this table by being honest once again.
If, after a few days, you realize that you ticked only a few boxes… work on only those two or three habits. There's no need to get demoralized. Focus on the essentials.