Are you once again drowning in the chaos of notes and have already given up your annual resolution to become more organized? Then now is your chance to change that. With a Bullet Journal, you will bring more order to your tasks, thoughts, and ideas, and it will be a lot of fun.
What good would that do?
You can increase your motivation and even productivity if you have an overview of your appointments and short- or long-term goals. However, there is not only material and organizational value to a Bullet Journal but also a feeling of relaxation and liberation.
Don't you know how satisfied and balanced you look when you see a completed to-do list? This not only makes you proud but also increases your self-esteem considerably. Once the work is behind you, you can use sketches in your BuJo to promote your creativity and find new ideas.
Starting a BuJo feels overwhelming
Bullet Journaling for beginners should be fun and helpful. So do not stress yourself – perfection will not get you far here.
My tip: Start with an "About me" page with your name and address. Therefore, the book comes back to you when you leave it somewhere. This has already proven itself in my university. Another good start is a table of contents in which you write in your entries bit by bit.              
Once you have done that, you can get started.
Procure essential material
Before you can get started, you will need some necessary supplies. Do not buy everything you find that other journalers are using, because it will overwhelm you with too many choices. 
Which BuJo notebook will suit me?
In the beginning, you need a notebook in which you can write. When choosing your journal, consider a few things:
Checkered, lined, dotted or blank?
Are the pages thick enough or translucent?
Do you want to design the cover page yourself?
Do you want to tear out pages if required?
Depending on what is most important to you, you can go searching. There are many notebooks suitable for beginners.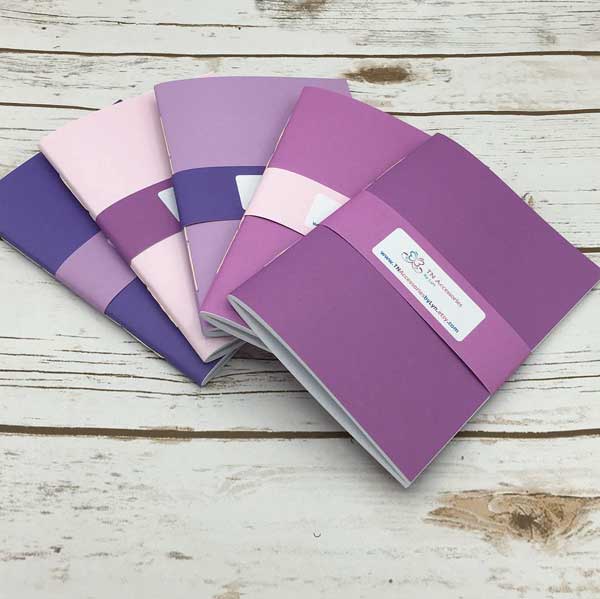 Pens
You only need a pen to write. However, I now collect pens.
Pencils are an essential basis for sketching and creating new layouts. You really don't have to buy an expensive pencil, because you will paint over it or erase it.
Black fine liners are indispensable for me because I use them for every page. I recommend a set with different widths. For watercolor designs, the pens should also be waterproof.
Brush Pens are the perfect way to practice calligraphy and add more variety to your BuJo's headlines. With its movable tip, you can vary the thickness of the font by pressing on it with varying degrees of force. I recommend that you practice with cheaper ones first. This way, you could find out if you enjoy using them at all.
Washi tape
Washi Tape is not only a trend but also an exquisite design variation. This is not a must for BuJo, but once started, an addiction quickly develops. This is because there is a multiplicity of variants and application possibilities. 
Stickers
Similar to the tape, you can glue stickers that complement the design of your entries. I don't use them myself at the moment, because I sketch everything myself, but I don't want to withhold them from you.
Freebies/Printables
Freebies or printables' are (mostly) free templates you can print at home and use them as a starting point for your Bullet Journal Setup. This is especially useful for those who have difficulty creating their own layouts and themes.
Finding ideas for your Bullet Journal
Now you have all the materials ready. Let us see where you can find ideas and inspiration.
Pinterest
Pinterest is a social network and a visual search engine that lets you discover ideas for your everyday life and stick them on virtual pin-boards. For Bullet Journaling, you will never get enough, because nowhere else can you find such a wide range of inspiration.
Idea lists
When the question arises what I want to create next for a page, I use lists of ideas. You will find a lot on the Internet, or you can brainstorm what you really need. For example, do you have headaches? Then a tracker would be useful to list the occurrence of headaches, or if you do not drink water regularly, then you can track the amount of water drunk during the day. I recommend writing ideas down on an extra page as soon as you discover something new. Therefore, you can check that page whenever you need a fresh concept.
Layout and motifs
After you have clarified the question "What do I want to represent?", there is often helplessness how you can implement this idea. I advise you to be as creative as you want. You can choose a simple or ornate layout, as long as you don't restrict yourself. I find monthly themes delightful, on which you can design all pages of a month. I give some examples below:
Flowers: cherry blossoms, peonies, early bloomers
Galaxy: stars, constellations, planets
Ocean: sea, shells, palm trees
Feasts: Easter, Christmas, Halloween
Animals: like bees, with honeycombs
Movies: Harry Potter, Narnia, Guardians of the Galaxy
Color families: using different tones of a color
Food: Fruit, Pizza
Landscapes: forest, mountains
Bullet Journal Structure
The structure of a Bullet Journal is simple and clear. There are five things every Bullet Journal should have – a key (legend), an index (table of contents), a future log, a monthly log, and a daily log.
If you get into the subject, you quickly notice that there are many more categories you can add to the Bullet Journal as needed. For now, however, we will leave it at these five most important ones.
The key
The key comprises symbols with which you can categorize everything you enter in your Bullet Journal, for example, in to-do's or tasks. You can set the status of entry by marking it as unfinished, done, or moved.
The index
The index lists everything that finds its way into the Bullet Journal. It is advisable to reserve the first four pages of the notebook for the index. Thanks to the index, you do not have to scroll long to find individual pages in the Bullet Journal.
Important: For the index to work, you must number the pages of the notebook consecutively. You can do this right at the beginning. Alternatively, you can number the pages bit by bit while you are already using the Bullet Journal.
The future log
With the Future Log, everyone has to decide for themselves how far into the future they want to plan. It may be for the next six months or a year. However, it is possible to draw the Future Log over several pages and devise a year or even longer ahead. The Future Log will contain future dates, to-dos' and notes you already know. Once we set up the Future Log, we enter the corresponding page numbers into the index.
Monthly Log
With the Monthly Log, we dedicate two pages to the current month. On one page, we list all days of the month with the respective weekday under each other. We reserve the other side for the to-dos of the month. We also add the Monthly Log to the index. 
Daily Log
In the Daily Log, we note everything that belongs to the corresponding day – appointments, to-do's and notes. Since a Bullet Journal is not a ready-made system, you can fully meet your own needs and customize it. Some people reserve a double page for a week.
You can also design a minimalist variant and make entries on a day-to-day basis. This means that a day on which there is nothing to write does not have to appear in the Bullet Journal. We will also include the Daily Log in the index.
For daily use, it is essential to use the key continuously. The key provides information about the status of an entry – What we tick off means that we have done the task. An arrow to the right means that something has moved to the next day. Arrow to the left moves something into the Future Log. Entries marked with an asterisk have priority. What we cross out is no longer critical.
Have courage to start
The last and probably most challenging step is to start BuJoing and write the first words on your first page.
Don't be afraid of the first pages
All beginnings are difficult. If you do not overcome yourself, you will not reach any goals. So gather up all your courage and write on your first page. No one will hold you to ransom that why isn't your first page perfect. At the end of your first month, look back at your journal and see what improvements can you make and if you can add any creative elements. You will only become better at it.
I am even happy to see that I have been getting better and better since my first entry, so do not hold back.
It should be fun and bring benefits
A Bullet Journal should not become a chore or an obligatory part of your everyday life, quite the contrary. It should give you joy and serve a purpose. As long as you enjoy BuJo, it doesn't have to look perfect. Anyway, who decides what is beautiful?