We all don't have the same artistic talent! So we have to deal with what we are. If like me you are not creative or not at all good at drawing, you need not worry about reproducing those pages with gorgeous drawings and beautiful art as seen on various social networks.
Let me give you some tips to make it easier for you to draw in your bullet journal.
Drawing ideas – tip 1
Probably the easiest method is the use of tracing paper. Yes… I know… it's not really drawing. But at least it trains your hand and wrist to hold a pencil, to draw lines, etc. It also allows you to visualize and become familiar with simple drawing strokes because your hand does not do everything. It is by training regularly that we progress! If so… don't give up before trying again and again.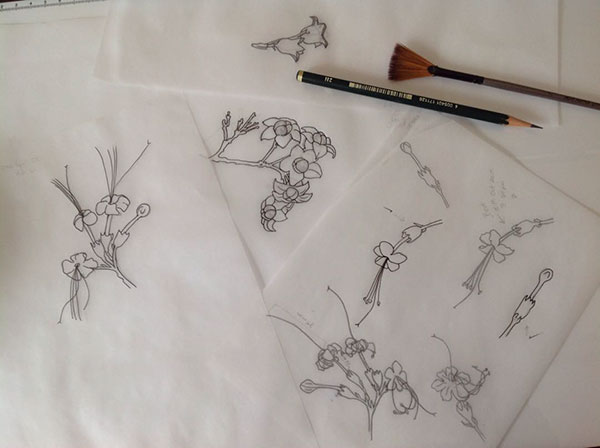 For inspiration, search the internet for what you want to draw. Add the word "drawing" to your search term, find your template for printing and tracing. Example: flower drawing, house drawing, dog drawing.
Drawing ideas – tip 2
On the same principle, you can trace directly from a digital medium. Thanks to the high brightness of your tablet, smartphone and computer displays. All you have to do is place a thin sheet of paper or tracing paper on this screen and see the drawing through the paper.
I take a sheet of thin dotted paper, to trace a pattern from the screen. Then, I transfer the drawing manually to my notebook, following the dotted lines on the sheet. Simple and efficient!
Drawing ideas – tip 3
It is not necessary to draw big pictures at first! Why not try small doodles that are often easy to copy? You will find every possible theme. Like doodles for the weather, succulent doodles or cactus, astronomical doodles.
Drawing ideas – tip 4
Have you ever tried it step by step? That is to say, following the tutorials that explains the process in steps.
I bought this book for myself: Kawaii Doodle Class. I love it, it's just great. It details each drawing in 5 or 6 steps. It contains steps to draw flowers, leaves, cacti, clouds, food, etc. You can also look at some social media sites such as Pinterest.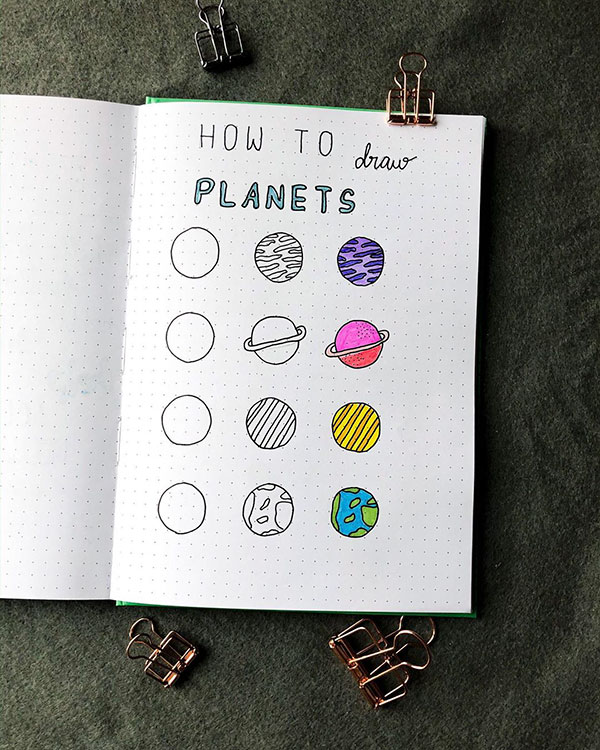 Finally, there are a lot of videos! YouTube is a gold mine. No need to search for videos specific to bullet journal. Find out how to draw what you like. For example:
How to draw some animals easily?
How to draw banners or small frames?
Drawing ideas – materials
No need to invest in markers, pens or watercolors. To begin, a pencil, eraser and a few colored pencils will be more than enough. I find that the shading with colored pencils is softer, less marked. As a result, the design is more neutral and we see fewer defects.
So, are you going to draw in your bullet journal? Above all, don't worry about it. The important thing is tracking, logging, planning and organization! The rest is just superfluous.