After several months of bullet journaling, I want to share with you my 10 favorite tips.
Some of these tips have brought about significant improvements in my planners, like the calendar stickers or the colorful index.
So here's my top 10!
Color coded index
I usually use colors to avoid cluttering the index of my bullet journal. This also makes it easier to glance and search the relevant pages of my journal.
Simply choose a color by theme, make a legend (for example in the index's margin) and color the edge of the pages you index.
Flip-out / flip-in legend
I make a foldable bullet journal key on a card. Then I glue it on the back or inner front cover of my journal.
When you fold the legend inwards, you no longer see it. It just needs to be unfolded when you need it and as we position it below all the pages, it is always visible when you turn the pages and it also does not interfere with writing or sketching.
Calendar stickers and tabs
I love these stickers! I find them very practical. I put one on my monthly calendar and it also acts as a bookmark.
Holiday checklists
I always tend to forget something when I go on vacations. That could be the reason I have at least five hairbrushes and about ten toothbrushes!
Hence, the idea of making checklists that I update regularly. And every time I travel, I copy or photocopy the checklist.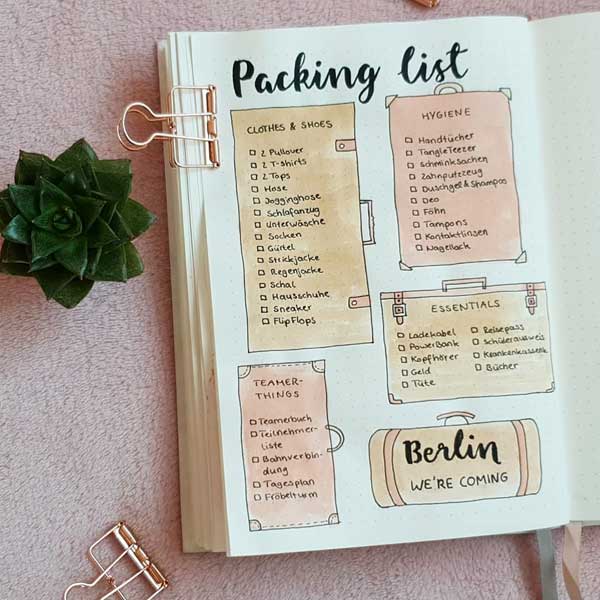 Family gift ideas
Sometimes during a routine conversation, you may learn what would please our darling or child or mother as a gift.
As soon as I hear, "I would like to have…" I grab my notebook to write it down and when Christmas or a birthday comes, I have lots of ideas.
Post-it notes
Sometimes I have things to do but no specific date. I then note these spots on a post-it that I always transfer to the page of the day.
I keep these post-it notes handy whenever I am on the move and then whenever I am back; I paste them or copy the notes to the page of the day in my journal.
Stencils
If you like to draw symbols, alphabets and designs, without touch-ups or erasures, you can take the help of stencils. I use them mainly for geometric figures because I have a little trouble drawing a pretty circle.
Washi
These adhesive tapes come in different patterns, materials and thicknesses. They can be used to decorate a page or can act as a separator.
Calendex
The figures in the monthly columns are the numbers of the pages where the corresponding daily spread is located. It is another trick that helps you to plan your entire year.
Paper clip
Using a clip is necessary because it's really annoying to have the pages of your notebook fold back on your hand while you're writing. It happens to me a lot when I write in bed.
The clip allows me to hold the pages while working on my journal and I no longer have this problem.