Trackers are a popular addition to the standard BuJo monthly overview. In principle, these are lists with personal tasks or habits you regularly check to see if you have fulfilled them or not. Depending on the design, you can then check off the field, set a point, or use a specific color to depict a completed part.
This is about your own improvement goals, be it leading a healthier life or being more productive. Some common trackers used are as follows.
Gratitude Log
I see more and more people creating gratitude logs. Among them are not only people who keep bullet journals but also people who write diaries or always carry around a planner with them. I also know people who keep their own notebooks for their gratitude practice.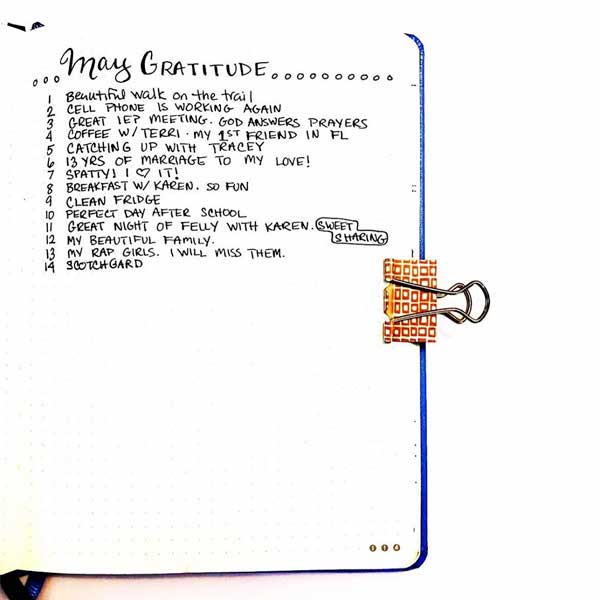 The idea behind it is that you regularly/daily make yourself aware of what you are thankful for and write it down. This practice helps you to focus on the positive things in life and to realize them every day.
You can write one or more things every day for which you are grateful. This can be the rays of the sun or the first snow, the support of your parents or even the smile of someone at the cash register. No matter what it is, it's your gratitude. I highly recommend this to a daily ritual.
It does not matter if you keep a simple list or creatively implement your gratitude pages. Do it the way that suits you best.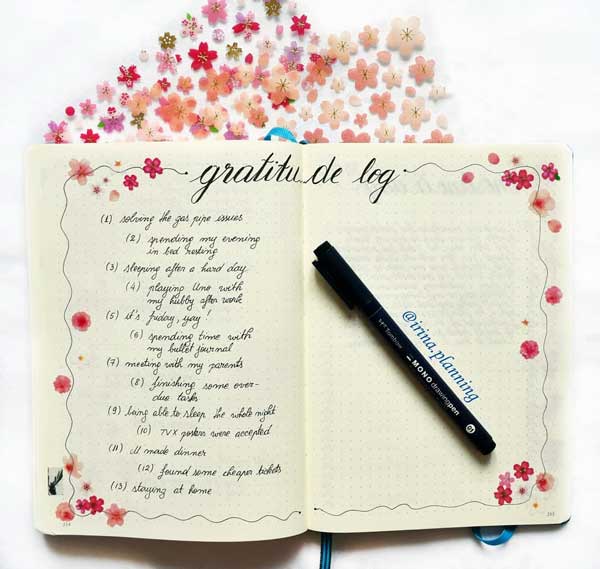 Habit Tracker
Habit trackers are habitual. People use a habit tracker to remember to do something regularly, such as exercise, walking, or reading a book. Some also use it to check on which days they have spent no money, drank over 2 liters of water, or have not watched television.
I am not only use a habit tracker to remember certain things but also to write when I last did certain things.
We not only use most habit trackers to follow habits but also to create new ones and to replace old ones (eating unhealthy, drinking too little water). Sometimes, however, they help you realize your habits and to visualize them.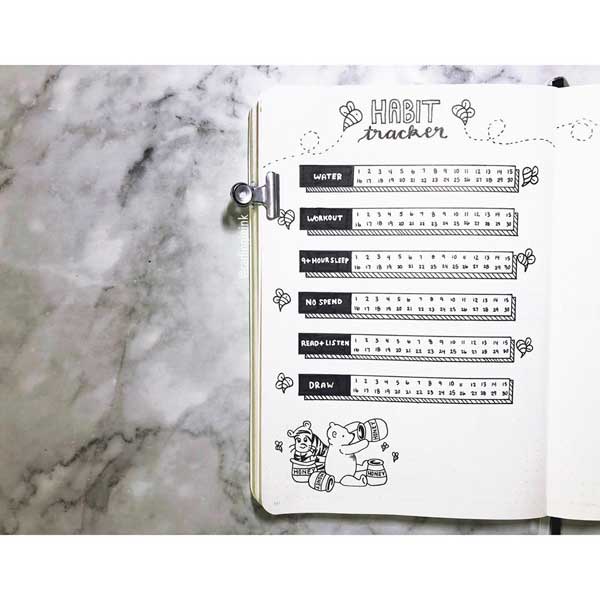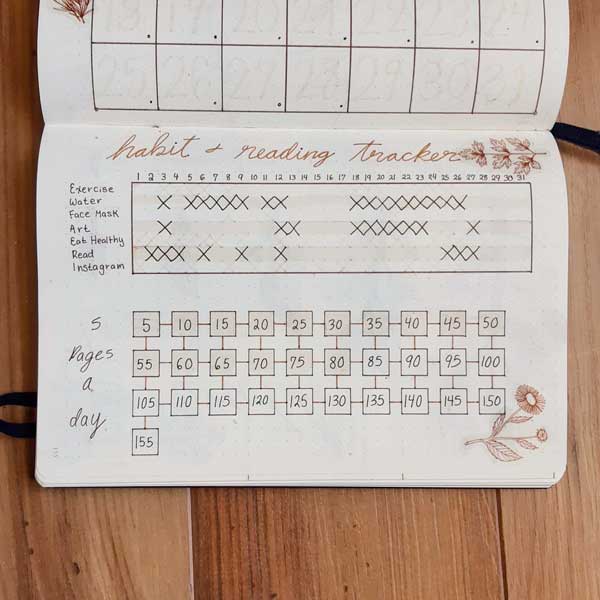 Food and Nutrition Tracker
I created a Food Tracker in which I created a table on a double page. On the left, I created a column for breakfast, lunch, and dinner for each day of the month. Therefore, each day, I could enter what I have eaten without evaluating it immediately.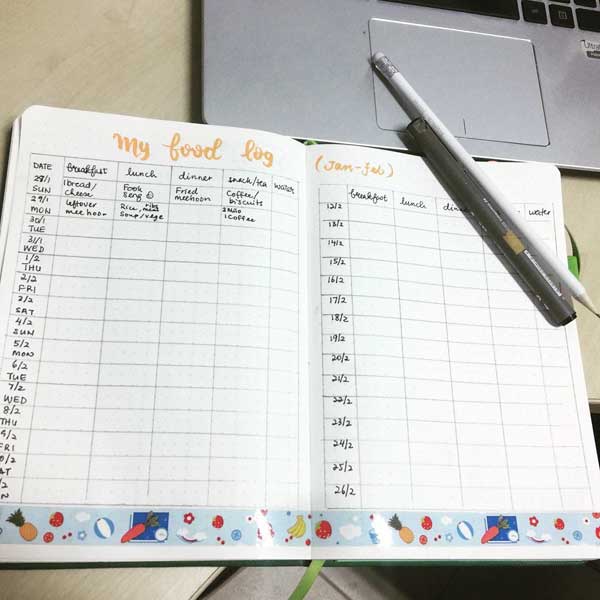 The advantage of this is that you can see if you eat a balanced diet, use up leftovers, and observe how often you cook yourself. I also supplemented the whole thing with a "Candy Counter." I did not count every piece of chocolate or candy but noted the days per week when I had none sweets.
Mood Tracker
With the help of different colors I assigned to a feeling, I tried to track how I felt each month. Did I often feel tired or sad? Were there any days when I felt positive? A Mood Tracker should help you think about your life. Are you happy with what you are doing or are there things that keep pulling you down?
We can create a Mood or Self-Care Tracker in the form of a coordinate system with several items (e.g., Mood, Sports, and Nutrition). For each day, we set a point for the respective category and connect them to form a line at the end of the month. This can be useful to draw comparisons like – Am I happier/more balanced if I have done a lot of exercises or had a healthy diet?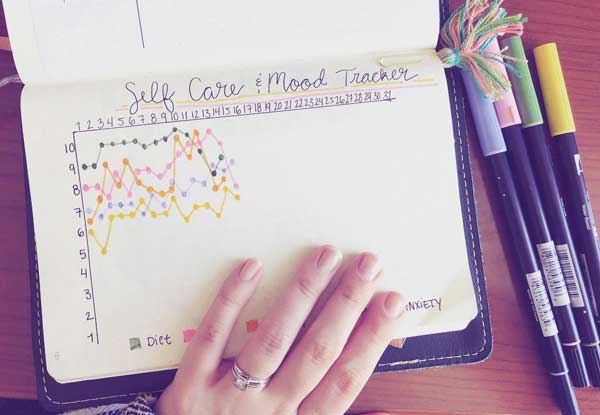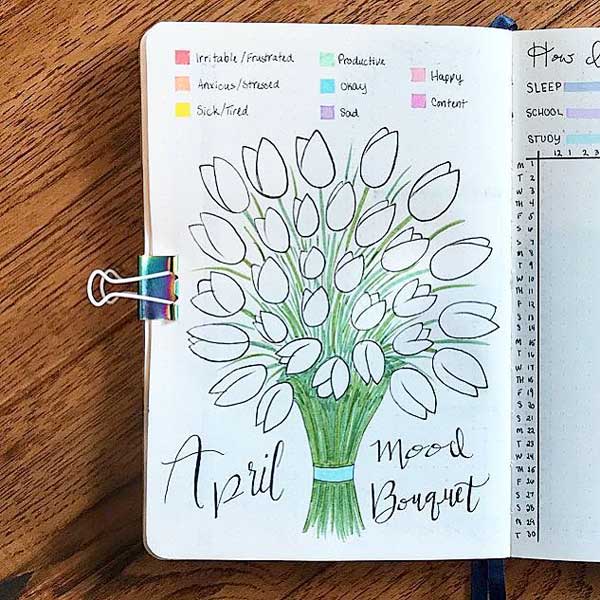 Household Tracker
A household tracker reminds me if there is still some pending chore or task in the apartment and gives me a good feeling at the end of the week. You can always check yourself whether you have wiped the dust or done the dishes. However, a tracker helps you to include these things in your weekly schedule and to plan time for them.
On Monday, for example, I think about when it would be best to do the laundry this week. Do the flowers need watering? A look into the tracker shows me, yes. The last time you gave them water was two days ago.
Challenges
The name says it all. It's about chilling out. I often set a personal goal, such as a flat stomach. I write then exercises I need to perform for the next 30 days.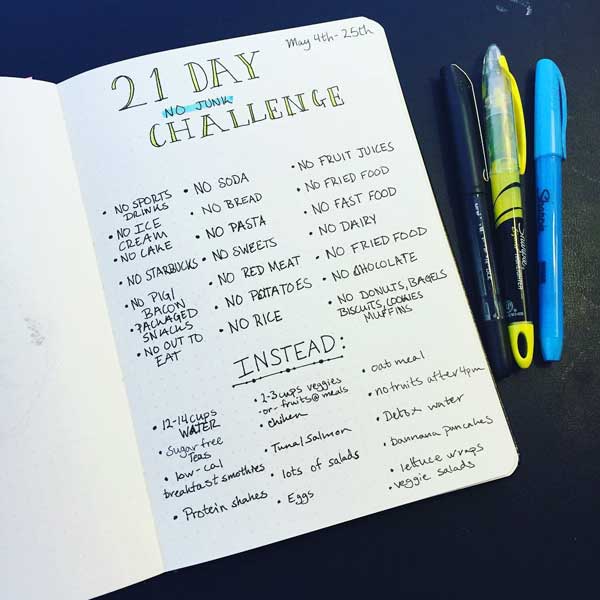 We can also extend this idea to many areas. You can not only create relationship challenges to give your love relationship a breath of fresh air but also personal challenges such as a mental challenge that focuses on positive thoughts or stress reduction.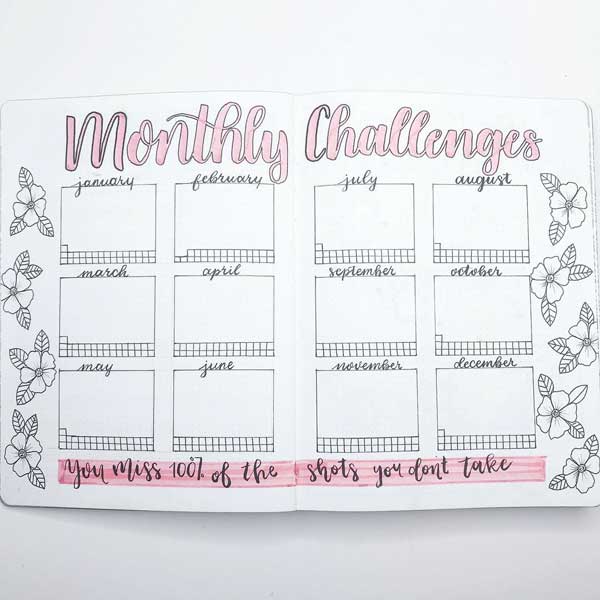 More ideas
Trackers are a central component in many Bullet Journals. You can track everything that happens in your life day after day. You can then respond concretely to your own needs (e.g., if you have a health condition, you can record the intensity of pain or other symptoms daily or hourly, to review later).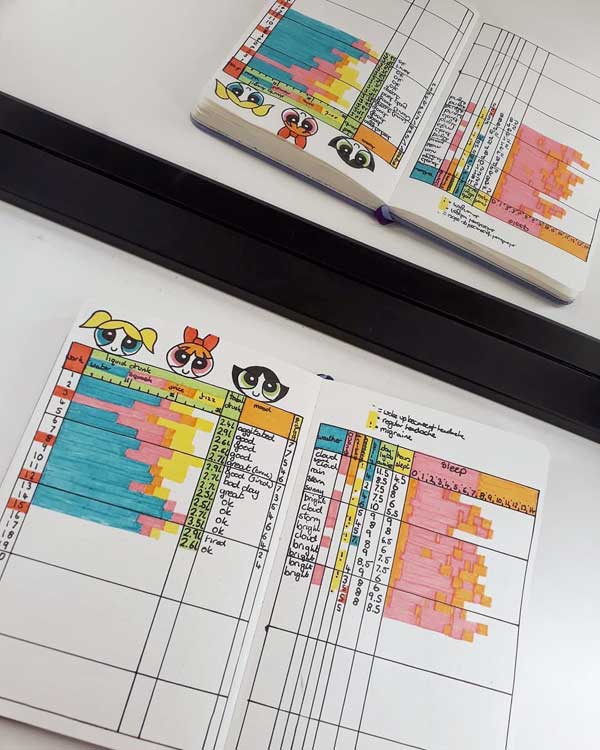 There are countless other things you can track, like your sleep rhythm, the books you've read, how often you visit your grandparents, how many Instagram Posts you've created in a month, how much money you spend a week, and so on. You will also find a lot of ideas and suggestions on the Internet, for example, on Pinterest.
Here is a small list of trackers for your Bullet Journal:
BuJo Tracker Ideas
Got up at a certain time of the day/ went to bed
No chips/sweets/alcohol
Drunk enough water
Tidy up/dust vacuumed
Not smoked
Posted on Instagram
Read books
Level 10 life
Household tracker
Laundry
Bathroom/kitchen cleaned
Floor wiped
Something for your pets
Purchases/shopping
Bed linen changed
Sleep trackers
Books to read
Movies to watch
Series tracker
Pedometer
Mood tracker
Sports tracker
Period tracker
Pain diary
Tracker for weight loss
Fitness tracker
Social media tracker
Tracker for blog readers/followers
And many more…