I absolutely did not track my budget. So sometimes I got good surprises, but more often there were bad ones. It was therefore time for me to be more attentive to it and I am counting on my Bullet Journal to help me do so.
A daily budget tracker
You write everything you spend on a day-to-day basis. Absolutely everything! An income column, an expense column, and maybe even a forecast column! A color code allows you to better visualize the different budgets: food, rent, expenses, groceries, leisure, restaurants, miscellaneous, etc. or to differentiate between essential and superfluous expenses. If you wish, you can even subtract your expenses from income as you go along. This way, you quickly get a glimpse of what you have left in your bank account.
I confess, I tested it and I didn't stick to it. I didn't check my accounts daily. I kept track of all my expenses for only about 15 days! I found that a monthly tracker may be a better idea.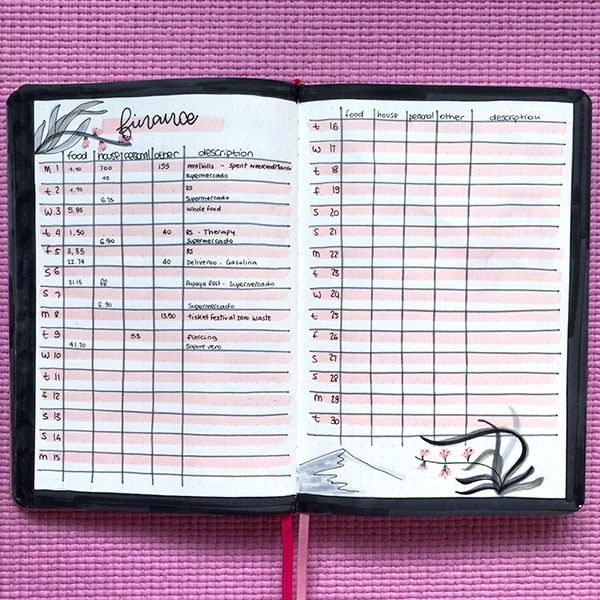 A monthly budget tracker
On this page you can follow the progress of your income and expenses by category and for each week. All you have to do is enter the totals of your weekly spends on the corresponding lines. At the end you can create rows for total monthly income, total monthly expenses, average weekly spend and balance for the month. This will give you a better overview. Where do you spend the most? Do you know how much you spend on food/month?
You are free to represent these different categories of expenses by graphs, curves, etc. You can also create additional sections for fixed and variable expenses.
But if you don't know how to manage your accounts efficiently like me, here are some other possibilities!
An annual budget tracker
Full year budgeting at once is too complicated for me! However, I have to be careful. As a result, I set myself a monthly budget for all the estimated expenses. I withdraw this amount in cash, and it's up to me to manage with it!
In short, I have to make an annual tracker where at the end of each month I will write what I have left of my initial amount. It's up to me to be careful, to save, to please myself… This method is adaptable to other expenses: food, leisure, etc.
And to force me to check my account more often, I integrated it into my weekly spreads! We can also divide the year into bi-monthly, quarterly or bi-annually.
No spend challenge
There is a "No spend" challenge that you can find on various social media platforms. Try it for a few days! Either you don't spend any money at all; in which case you need to have a stockpile of all essential items or you don't spend money on a particular category of items. It's a great way to put some extra cash in your pocket quickly. Since these types of challenges are temporary, they are interesting and fun. They will also help you achieve your money goals speedily.
52 week challenge
The principle is simple: the 1st week you put aside $1, the 2nd week it is $2….the 10th week it is $10… and so on. That will save you $1378 at the end of 52 weeks!
It does not require you to follow the order of weeks. If your 2nd week of challenge allows you to save $20, do it!
A future savings log
If possible, sometimes save money randomly. It helps in times of unexpected expenses, or for special occasions, or for your wish list. Each time you put money in the envelope, you color in a square or slot.
If you have expenses planned for the coming months, you can also keep some extra cash for unplanned moments. For example: taxes, vacations, celebrations, etc. A double page may be enough for the next 6 or 12 months.