Halfway between a planner and a journal, the Bullet Journal is a real life coach. It has already brought smiles to millions of people.
Writing relieves the mind
The Bullet Journal, or BuJo, is above all a method of organizing to prevent stress. This makes it possible not only to remember tasks but also to see if all our activities fit into the time available, and to define our priorities.
The annual planning summarizes the most important dates of the year. The monthly pages remind us of the month's events and objectives. The weekly schedule, finally, serves as an agenda. It records the days of the week, appointments and the daily, personal and professional to-do list.
Develops your positive side
The Bujo method offers a range of tools from positive psychology. We pick it up according to our needs. Among the most effective are:
The mood tracker
It is a table, a circle or a drawing, with a color code. It shows you how your feelings change from day to day. Cross-referencing the results of the mood tracker with other information helps to identify the elements that are beneficial or harmful to our emotional state.
The gratitude page
Every day, we note few things for which we feel gratitude. You can find something positive even after a bad day.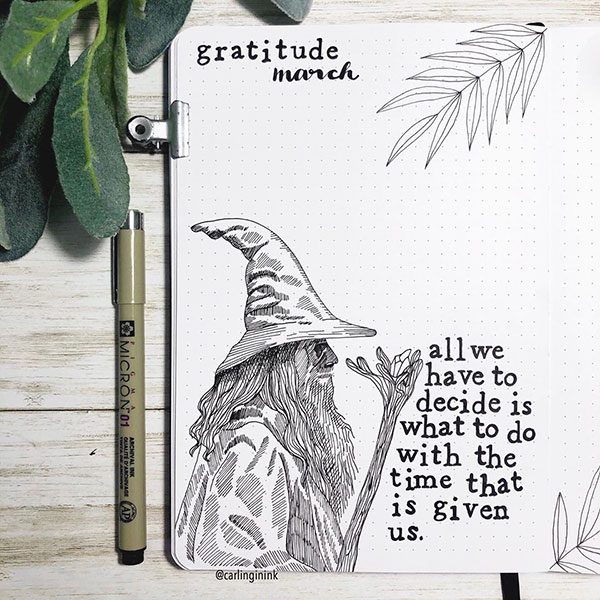 The Bucket List
This page records everything you would like to achieve in your life or in a certain time period. Writing is about allowing yourself to dream. It also means fixing your desires.
Monitoring progress improves productivity
A system of codes makes it possible to distinguish the different activities, and to always know where we stand. For example, we draw a triangle when it is an appointment, a circle represents an event, and a square represents a task to be accomplished. If it's marked with a cross, it means we have cancelled it. If we fill the symbol with color, it means that we have completed the task, and an arrow is drawn inside the square to show that the task has been migrated or scheduled. Visualizing the work done provides a positive feeling of efficiency and productivity.
Recharges your creativity
The Bullet Journal layout can be very simple or we can decorate it with drawings, paintings, etc. Holding a pen forces you to reconnect with a slower temporality. The more you let yourself draw with a pen or color, the more you recharge your creativity and imagination. This space of reverie is essential for the brain.
Taking breaks when you don't want to be productive allows you to be more productive. If you can't draw, don't hesitate to copy illustrations, cut images from magazines, or print what you like on Pinterest or Instagram.
Don't be afraid to miss, cross out, and have some pages less successful than others. The Bullet Journal must be alive. Too much perfectionism makes the project laborious, and we risk giving up. It is also necessary to accept and not always fill everything in. Sometimes, just to avoid being overwhelmed, you may leave your notebook for a few days and try new things later. Only keep things that make you feel better as this system is highly customizable.